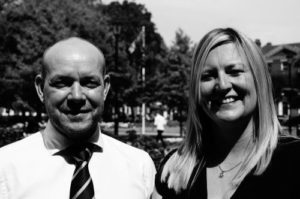 John Ibbotson & Rebecca Wood 
If you have been involved in an accident and are thinking about making a claim then the first step to take is to telephone or contact us to tell us what happened. It costs absolutely nothing to call us and we can give you some early advice on whether you have a valid claim.
If we consider that you do have a valid claim then we will arrange a meeting with you. We can come to you if that is more convenient.
That meeting is always free of charge and is an opportunity for us to obtain more details from you about your accident, advise you on what you are entitled to claim for and discuss the ways in which your claim can be funded.
If, after that first meeting, you decide that you would like us to handle your claim for you we will then start work to progress your claim.
The first step is for us to send a "Letter of Claim" to the person or organisation responsible for your accident. With smaller claims this can be through a computer portal.
We give them details of your accident, tell them why you are making a claim and ask for details of their Insurance Company (since the majority of claims for injuries are paid by insurers).
A reply is required within 21 days and usually that reply simply confirms that your claim will be investigated and that their Insurance Company has been told about your claim. With smaller claims this can be even quicker.
The law then provides that the insurers have a 3 month time limit to reply in full and say if they accept responsibility for your claim (and so we will pay you damages), or whether they deny responsibility, giving reasons why.
Sometimes, insurers reply much earlier than the 3 month time limit. In any event, whilst waiting for their reply, we will be getting on with other work to progress your claim.
This might include taking witness statements, gathering information about your financial losses (particularly if you have had to stop work and are losing income) and getting together other documents that will help with your claim.
Once the reply from the insurers is received they will either say that they accept responsibility for your accident or that they deny responsibility.
If they accept responsibility we will tell you and then we will work with you to gather all the information we need to value your claim.
This will certainly mean that you will go for a medical examination so that a report can be obtained on your injuries.
Sometimes, this is arranged within a few months of the accident but sometimes (if you have suffered serious injuries) we advise that you wait longer.
This is so that when the Doctor sees you he/she has a better idea of how you are recovering and can give a more accurate prognosis.
When we have all the information and reports we need to value your claim we then send all the details to the Insurance Company so that we can begin negotiations with them to complete your claim.
Whilst many claims are concluded in this way, it is sometimes necessary to issue Court proceedings.
Sometimes the Insurance Company denies responsibility for your claim and if this happens then we will discuss the reasons with you.
We may ask a Barrister for a further view on your chances of success.  If we believe that your claim still has a strong chance of success then we may issue Court proceedings for you.
If we believe that your claim might not succeed then we may discuss with you whether you wish to carry on with it.
Most claims settle within around 9 to 12 months of you instructing us to deal with your claim.  In some cases however, particularly if you have suffered serious injuries, or are not recovering from your injuries as you expected to, this can be much longer.
We will always keep you informed on the likely timescale.
The claims process can appear a little daunting but we will guide you through it each step of the way and make it as easy and smooth as possible.